Extemporaneous Competitors 2019
There is a mandatory meeting for ALL Extempers...... it will be emailed to you.
The Extemp Prep room will be in the Fermanian Business Center Conference Room. . If you have paper file boxes, they can be delivered there on Thursday morning beginning at 7:30am. Every club will have an assigned table.
Extemp has priority! If you are in other speech events in this pattern, be sure you schedule your time so you do not miss your draw time. The times are fixed and if you are late to the prep room, your prep time is shortened. Speaker positions cannot be switched or changed.
This tournament will be run in accordance with the Extemporaneous Rules on the Stoa website. You should read that information, which can also be found here.
Please note: Preparation time and walk time are combined so that at the end of 30 minutes the speaker is presenting.
Additionally, the Extemp Prep Room Protocol has a special section for competitors. Make special note of these Competitor Responsibilities.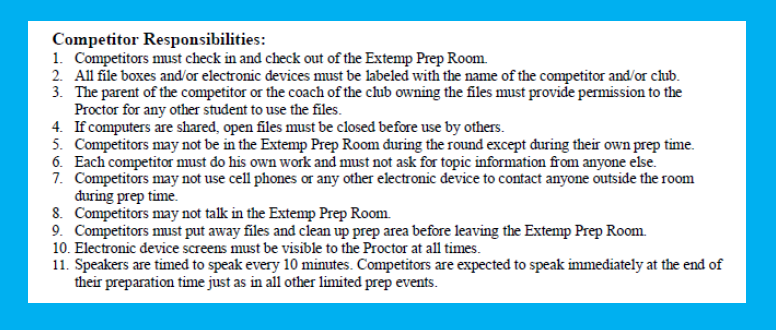 The number of electrical outlets is limited. Please bring your own electrical extension cords and power strips for the prep room. It is highly recommended that your device is fully charged and independent!
Make sure everything is labeled...your laptop, extension cords, books, brief case, etc.
Liability:
1. Students must accept full responsibility for the safety and security of their electronic devices for the duration of the tournament.
2. Tournament staff are not responsible for the devices at any time.
3. All electronic devices should be clearly labeled with the participant's name and contact information.