Script Submission for the Point Loma Classic 2019
Why do we bother with script submission?
To Honor God;
Protect and Improve Ourselves;
Protect and Honor Authors' Intent; Integrity.
Standardization so everything necessary for an evaluation is present if a question arises. Besides the above listed reasons, electronic submission reduces the work load of tournament check in and aids in a proper review of scripts, giving competitors a chance to correct and avoid disqualification.
*There will be NO script approval done on site at check in. In order for your PLC 2019 registration to be complete, there is a mandatory electronic script submission requirement.*
Who
: Competitors who are entered in the following events
must submit scripts for approval
:
Interpretive Speeches: Dramatic, Duo, Humorous, Open
Platform Speeches: Expository, Original Oratory, Persuasive
Wild Card Speech: Demonstration


When:
Via web form by Saturday, December 29 at 11:59 pm.
To help you help us, the PLC is offering an incentive for those students who are able to submit their scripts one week earlier than the final deadline. If you submit your script(s) by 11:59 pm on December 22, your name will be entered in a drawing (one entry per script) to win a Point Loma Classic Inaugural Limited Edition Souvenir Coin.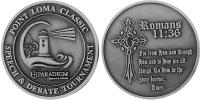 These coins are sure to be collector's items. They are freshly minted and ready to become your prized collectible. Although your name will be entered for each early script submission, only one coin can be won per person. Ten students will win….will you be one of them? Winner's names will be read at break announcements.


How
:
1. Read the Rules for your speech type here or on the Stoa website, Stoa Rules. Click on the red "Rules" box. Read Publication Guidelines, All Speech Rules and the event rules.
2. Read the Script Preparation Instructions which are the first page of the script submission forms. These forms can be found here: Platforms, Duos, OIs, Interps or on the Stoa website, Submission Forms. Click on the red "Submission Forms" box.
3. Prepare your Script Submission Form with your coach or parent. Include initials and signatures.
4. Combine all required files into a single file in PDF format ONLY! NO zipped, .tif, .jpeg, or shared files will be accepted. Use a PDF combiner, or scan into a single PDF. Join PDF files with free applications such as:
~ http://www.pdfsam.org/, which requires downloading a free application or PDF Merge
~ https://www.pdfmerge.com/, which enables you choose files and merge from the website
PDF file must include the following items:
• Script Submission form: Signed and initialed
• Typed Script. Platform speeches must include a Citation Page.
• For Interps only – A copy of the original source: Only include pages from which words were taken. Check that: pages are right side up, the words used are highlighted, & added words are written, pasted, or typed in.
File name format ~ Last name, First name -EventFiletype.pdf
Example ~ Doe, John -HIScript.pdf
5. Submit script via linked Web Form.
• Only one script per form submission.


* * *
Pre-Tournament Mandatory Electronic Script Submission
Deadline: Saturday, December 29, 11:59 pm
* * *
Script approval: Once your script is received via the web form, our script approval team will review your script. Upon approval, you will be sent a script approval email. Any issues with your script will also be responded to via email. Be sure to keep checking your email for any issues the script approval team needs to get corrected.
Please print the approval email and have it available at the tournament. You do not need to bring printed copies of scripts as the electronic copy will be delivered by script submission staff.
Regards,
Brian and Jennie McAlister